This week's Feature Friday is Mel from Mellywood's Mansion! She is awesome and does some great crafts, especially jewelry..and has a craft room I love!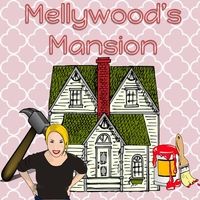 1.You live "Down Under." Is it as awesome as we in North America think it is?
Between wrestling crocs and riding our kangaroos, it's pretty awesome! To be honest I love my home, most of us live in close vicinity to the beach and there is nothing better than a warm day, chilled wine, BBQ and the beach.
2. One of your recent projects is your crafting room and you also host Inspiration Café and have a linky party....what's your favorite leisure activity?
I love crafting its my thing but my favourite thing to relax is to sit outside with a bottle of moscato and just chat with Jules.
3. Speaking of leisure--you don't have much, because you have a whole bunch of kids. Yet, you are pretty successful at keeping them out of your blog. Is this intentional? How difficult is it, when they are so much a part of your life?
It is somewhat intentional, being the mother of teenagers I feel they need to keep their life private I don't want them to feel anyone with an Internet connection can find out things that might embarrass them. Although they don't mind when I make a bit of fun like the "Hey Girl" post. I also started blogging when I finished working, I missed having a place where I was just me, everywhere else I'm someone's Mum or wife so I didn't want to make it about them.
It's not really difficult, it's easier to write about myself than them.
Wine, and preferably anything made by Brown Brothers
5. If you could take a month-long vacation (without children), where would you go?
I'd love to go to Italy, I once heard there are streets that just sell leather purses, that's my idea if heaven!
6. Who was your favorite Spice Girl?
Ginger Spice, she was always a bit sassy, I like that!
7. Are all the guys in Australia cute surfers?
No!
Charcoal
9. Be honest--how do you REALLY feel about burlap?
When I started reading blogs it was when burlap was everywhere and immediately I decided I wanted some, it must be amazing stuff. So I looked everywhere and I couldn't get it, I kept asking for burlap and I would get an odd look and was told they didn't have it. So eventually I decided to order it online and googled it. Turns out we call it hessian here and I nearly wet myself laughing, as a kid if you ruined your clothes you were threatened with wearing a hessian dress.
Having said that, there are some amazing crafts made with burlap/hessian.
10. Are there any bloggers whose posts you can't wait to read?
Too many, in fact the worse thing since starting my own is that I don't have the time to keep up with all of them, I love people who make me laugh.
As you can see, Mel is delightful and honest--and a breath of fresh air in blogland. My mother used burlap as a threat, so Mel is someone after my own heart!